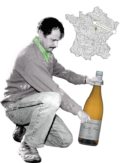 Paul Corneau
Winegrower – gardener in Pouilly-Sur-Loire since 1977 !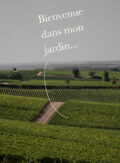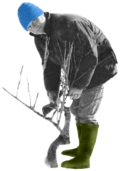 From 1977
Domaine Paul Corneau is located in the small winegrower hamlet of Bouchot in Pouilly- Sur-Loire. Paul started his activities with 5ha he inherited from his family in 1977.
Mme and Mr Corneau then completed the diversity of their terroirs by enlarging their vine plots, buying 8ha in Pouilly. Passionate and exigent winegrowers they considered their vineyard as their 'garden', giving the best attention to each detail and respecting their terroirs.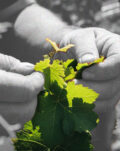 2015
In 2015, the domaine Paul Corneau joined Les Vignobles Villebois family.
We perpetuate the values of excellence, rigor and care that the Corneau family infused in their wines and their domaine. Every day, we do everything we can to preserve Paul's work.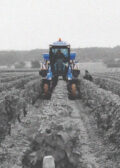 Today
Our wines are distributed in numerous wine shops and restaurants in France, Europe and Asia.
We value and keep on using the know-hows learned alongside Paul and honour his philosophy :
« I consider my vineyard as my garden, each vine is unique and needs a special care, no matter how much time and energy it takes from me. »

The vineyard and terroirs
The whole 13ha45 vineyard of the domaine grows Sauvignon blanc variety (the only authorized variety in Pouilly-Fumé appellation). Our vines are planted on the locations of Pouilly-sur-Loire (11ha30) and Saint-Andelain (2ha15), in the heart of the Pouilly-Fumé appellation. Rooted in and around the historic Chantalouette hamlet in Pouilly-sur-Loire, the vineyard is equally growing on 'compact fine-grained limestone of the Barrois' (Portlandian) and 'small oysters marls' (Kimméridgian) soils.
The legendary complementarity of those two soils is remarkable. Producing expressive wines, with a generous fruity profile and a great length. The greater part of the vineyard is exposed South-South East as a third is exposed West, facing the Loire, the royal river.


POUILLY-FUMÉ AOP
Pouilly-Fumé
–
Historical and unique cuvée of the domaine. Essence of the winegrower passion and the know-how. A delight Pouilly-Fumé!
Vinification and ageing
The limestone soil is early harvested as the marls are harvested later. Subject of all our attention, the grapes are gently and slowly pressed after being harvested in order to maintain the best quality possible. Small vats fermentation offers to isolate each terroir and typicity. Ageing on fine lees magnifies the aromatic profile and terroir potential till the bottling is done, during the spring following the harvest.
Pairings
Corneau white Pouilly-Fumé wonderfully matches with aromatic dishes. We recommend to pair with seared scallops with orange, a crayfish cassolette, plancha-cooked shrimps or a lobster salad.
Tasting notes
Our Pouilly-Fumé is naturally aromatically generous and delicate. Pleasant on the nose with citrus notes (tangerine, orange), the mouth confirmes the first nose impression and elegantly offers a subtil balance of fresh fruits notes (peach, lemon, blackcurrant) followed by a soft and fresh feeling on the mouth and a 'smoked' finish, typical from Pouilly-Fumé wines.
This wine is available in France from 18,80 € at your preferred wine shop, or at our online shop Trésors de Bacchus
Buy online
Medals & awards
Find here all the medals, awards and publications concerning Paul Corneau.
| date | Cuvée | Millésime | Publication | Awards | |
| --- | --- | --- | --- | --- | --- |
| 2022 | Pouilly-Fumé | 2021 | | 92 pts / Fresh gooseberry leaf, guava, lime zest and chalk, threaded into a linear, medium-bodied palate with bright, tangy acidity. Mineral and chalky, with a zesty, mouthwatering finish. Drink now. | |
| 2022 | Pouilly-Fumé | 2021 | | | |
| 2022 | Pouilly-Fumé | 2020 | | 90 pts / Aromas of sliced green apples, grapefruit pith, lime zest, gooseberries and flint. Medium-bodied with crisp acidity and a fresh, clean and fruity palate. Drink now. | |